Discover the transformative power of stone and concrete decks. These elements not only boost your property's value but also create an inviting outdoor space for relaxation and socialization. With the services offered by Deal Construction, the dream of having an impressive and robust stone or concrete deck can turn into a reality.
Our custom-built decks showcase a perfect balance of style and durability. They provide a unique platform where you can enjoy nature's beauty, host outdoor gatherings, or simply relish quiet moments. This isn't just about decking—it's about creating a space that embodies your taste and lifestyle.
By choosing stone or concrete, you're investing in a material that withstands the test of time. These decks are resistant to weather extremes and require minimal maintenance, allowing you to enjoy your outdoor area without worry. Whether it's a cozy home setup or a professional business exterior you're after, Deal Construction's expertise can bring your vision to life.
| What We Do | Who We Do It For | What They Get |
| --- | --- | --- |
| Build and design custom stone and concrete decks | Homeowners and business owners seeking to enhance their outdoor spaces | A functional, aesthetically pleasing outdoor area that increases property value |
| Provide high-quality stone and concrete deck services | Any individual or business looking to install or upgrade their outdoor decking | Enhanced outdoor living space that perfectly balances style and durability |
| Offer professional consultations and expert advice on stone and concrete deck installations | Clients wanting professional guidance and quality workmanship in their decking projects | An expertly designed and installed stone or concrete deck that meets their unique needs and preferences |
Get a Free Consultation Now! (973) 800-3968
Design Consultation
The journey to a stunning stone or concrete deck begins with an insightful design consultation. This process involves a deep understanding of your vision, lifestyle, and property layout. At Deal Construction, our team of design experts is dedicated to bringing your dream deck to life. We accomplish this by listening carefully to your needs and preferences, then merging them into a design that not only matches your lifestyle but also enhances your property's appeal. Furthermore, our design consultation empowers you with knowledge about the various design elements and functionalities possible in your deck project, ultimately assisting you in making decisions confidently and creatively.
Material Selection
Choosing the right materials can significantly influence your deck's aesthetic appeal, durability, and maintenance requirements. We understand that this choice can be daunting, given the plethora of stone and concrete options available. That's where Deal Construction steps in to lighten the load. Our team assists you in navigating these choices, presenting you with a curated selection of high-quality stone and concrete materials. We guide you through the advantages and unique characteristics of each material, helping you make a decision that not only matches your aesthetic preferences but also aligns with your functional requirements. With Deal Construction, you can choose materials with confidence, knowing they will meet your decking needs.
Deck Construction
Building a deck that is visually appealing, structurally sound, and designed to withstand weather conditions and daily use requires a delicate balance of skill, craftsmanship, and attention to detail. At Deal Construction, our team prides itself on striking this balance in every deck project we undertake. We adhere to strict quality standards, from the foundation to the finishing touches, ensuring your stone or concrete deck is built to last. With our meticulous construction approach and commitment to excellence, we turn the vision of your deck into a stunning reality.
Deck Repair and Maintenance
While stone and concrete decks are known for their durability, they may require occasional repairs and maintenance to maintain their pristine condition. At Deal Construction, we offer comprehensive repair services to address any issues that may arise, be it minor surface cracks or more significant structural concerns. Moreover, we provide practical maintenance tips and advice to preserve your deck's beauty and functionality for years to come. Our repair and maintenance services are designed to ensure your investment remains as stunning as the day it was installed.
Deck Upgrade
If you're eyeing to enhance your existing deck or longing to inject a new lease of life into it, Deal Construction is here to make that happen. From adding modern features to upgrading materials or expanding the space, we tackle deck upgrades of any scale with enthusiasm and expertise. We work closely with you to understand your expectations, then bring your vision to life in a way that not only amplifies the charm of your deck but also bolsters its functionality. No matter your upgrade aspirations, we are committed to surpassing them with our proficient decking services.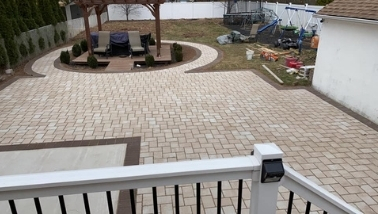 Project Management
A deck construction project involves numerous phases, from design and material selection to construction and finishing touches. Managing all these aspects can be overwhelming, but not when you have Deal Construction by your side. Our expert project management services ensure a seamless, stress-free experience from start to finish. We take care of every detail, ensure quality at every phase, and keep you informed of the progress, allowing you to enjoy the transformation of your outdoor space. With our project management services, all you need to do is sit back, relax, and watch as your dream deck comes to life.
FAQ's
| Question | Answer |
| --- | --- |
| 1. How long does it take to build a stone or concrete deck? | The timeline can vary depending on the complexity of the design, the size of the deck, and weather conditions. On average, it could take anywhere from a few weeks to a few months. |
| 2. What maintenance does a stone or concrete deck require? | Stone and concrete decks are quite low-maintenance. Regular sweeping and occasional washing should be sufficient to keep them in good condition. |
| 3. Can you build a deck in any season? | While we can build decks year-round, weather conditions can affect the timeline and efficiency of construction. Spring and summer are usually the best seasons for deck construction. |
| 4. What type of stone is best for my deck? | The best type of stone depends on your aesthetic preferences, budget, and the deck's purpose. Popular choices include flagstone, slate, and limestone. |
| 5. How long do stone and concrete decks last? | With proper care, stone and concrete decks can last for several decades. |
| 6. Are stone or concrete decks eco-friendly? | Yes, both stone and concrete are sustainable materials. They don't require replacement as frequently as wood, and they are made from plentiful natural resources. |
| 7. Do I need a permit to build a deck? | Most locations require a permit for deck construction. We can help guide you through this process. |
| 8. Can you work with my existing deck design? | Absolutely! We can work with existing designs and provide expert advice to enhance them if needed. |
| 9. Can I choose any shape or size for my deck? | Yes, we can construct decks of any shape or size based on your property and your needs. |
| 10. Can you match my deck to my existing home style? | Yes, we ensure that your new deck complements your home's existing architecture and design. |
Start Your Deck Journey. Click here!